Key Personnel, Officers and Board of Directors
Royce Monteverdi, President and Chief Executive Officer
An architect and engineer by education, Royce Monteverdi was creating revolutionary developments in the steel and construction industries before taking on the parking industry. Bringing cutting edge robotics to the field of parking structures, Monteverdi coined the term "robotic parking" and with fellow German engineer Heiner Schween proceeded to develop the systems that would allow robots to reliably and efficiently park automobiles.
No more driving around in circles looking for a parking space or walking across interminable parking lots to your office or store. In the garages Monteverdi envisioned, you could leave your car in a bay, let the garage's robots park it, and have them bring it back to you in the bay when you are done.
The "Lift and Run System" he created to bring this about produced a radical transformation in the warehousing and parking industries. Founded in 1994, Monteverdi's Robotic Parking System Inc. designed and built the first automatic parking system in the US, then went on to build the first such system in the Middle East, in Dubai. He built what remains the largest automatic garage in the world today, in Kuwait. Monteverdi was the first and remains one of the few to successfully build and operate simultaneous moving robots, staying well ahead in his field today with systems that allow a garage to move 30 to 50 cars or more at the same time, drastically reducing wait times.
Today Monteverdi's Robotic Parking System Inc. has built more automatic parking spaces than anyone else operating in America or Europe.
Inventor, designer and chief technical engineer of the Robotic Parking System garage, Mr. Monteverdi holds numerous patents for automated, robotic parking technology. He earned a degree in construction and mechanics at the University of Stuttgart and Ulm in South Germany. Simultaneously, he attended architectural classes studying construction and design in developing properties.
A few of his past projects include the Munich airport MUC II, Volkswagen factory Mosel, Hitachi Chip (wafer) factory, Mercedes Benz assembly line S class 1989, the launch pad for the Ariane space rocket booster and others. In view of his professional expertise and the patents he held for the Robotic Parking System, NASA/Satop asked Mr. Monteverdi to cooperate in developing a security system to detect explosives, narcotics and bodies in cars. This system is in operation today at specific locations.
Mr. Monteverdi also currently serves on National Fire Protection Association Committee on Garages and Parking Structures.
(See www.roycemonteverdi.com)
Praveen Kamat, Software Development and Deployment
Mr. Kamat has over 20 years experience in industrial/factory automation, software product development, project implementation, and program management. From hands-on software development to large scale project management and customer interfacing, Mr. Kamat brings a wealth of knowledge and experience for the implementation of successful solutions.
Mr. Kamat is responsible for the design, development, and deployment of the software to manage the operations of automated garages for Robotic Parking Systems.
Until 2003 he worked at GE Fanuc as the Program Manager for Automotive programs (CIMPLICITY) and has been responsible for successfully managing and executing several projects for General Motors, Ford, Daimler Chrysler, and Honda. Prior to joining GE, Mr. Kamat worked for Ingersoll Milling Machines Company, a machine tool manufacturer, developing Intelligent Front End HMI applications for special CNC machine tools such as the Composite Tape Laying Machine, and Flexible Manufacturing Systems (FMS).
Kamat holds a M.S. in Industrial Engineering and B.E. degree in Production Engineering.
Osama Fares, Structural Design Manager Middle East
Osama Fares is a highly skilled structural engineer with 17+ years experience. His projects include designing concrete and steel structures for towers, malls, factories, residential buildings, schools, hospitals and parking facilities.
Fares was the Structural Engineering Manager for the prestigious Al Jahra Court Complex and was instrumental in designing the automated parking structure for the complex.
Fares has worked with Robotic Parking Systems since 2013.
He is a certified Engineer in Kuwait and holds a Bachelors in Structural Engineering from the famous Ain Shams University in Cairo, Egypt.
Mary Lou DeWynGaert, Chief Administrative Officer
Ms. DeWynGaert earned a BS in Education, Math and Science. After a brief period of teaching, she became involved in the computer software industry.
Ms. DeWynGaert held numerous positions in RealWorld Corporation, one of the original developers of widely used accounting software packages for small- to medium-sized businesses. Positions included Director of Software Development, Customer Service and IT as well as Deputy to the President and CEO. During her tenure as Deputy to the President and CEO and VP Marketing for a widely used accounting software firm, company revenue grew from $6 million to $18 million annually.

Ms. DeWynGaert also served as VP Development as well as Webmaster for other software firms.
Ms. DeWynGaert has been with Robotic Parking Systems, Inc. since 2005 where she is responsible for corporate and legal affairs, human resources, marketing and treasury.
Ramanathan Ramasubbu, Chief Operating Officer
"Ram" Ramasubbu joined Robotic Parking Systems in early 2006. He holds a B.S. degree in Mechanical Engineering. In his prior positions as Senior Mechanical Engineer and Technical Manager, Ramasubbu rapidly gained experience in all phases of the production and operation of Robotic Parking System.
Ramasubbu was involved in the design and build of the 765 space and 1200 space (previous Guinness World Record holder) parking facilities in Dubai. He was also instrumental in the design, installation and start-up of the 2314 space automated parking facility for Al Jahra Court in Kuwait which is the current holder of the Guinness World Record for the Largest Automated Parking Facility.
As COO, Ramasubbu heads the manufacturing and the engineering team which encompasses civil, structural, electrical, electronics, software, installation and project engineering although his specialty is in machine design and mechanical engineering. He is also responsible for garage operations.
Prior to Robotic Parking Systems, Ramasubbu held positions involving the design of industrial compressors, auto electrical components and building maintenance units for various organizations.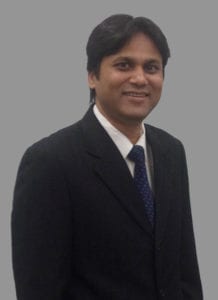 Rajeev Aswal, Robotic Automation Manager
Rajeev Aswal is highly skilled in automation engineering and robotic technology with specific application to the patented Robotic Parking Systems' technology for automatic parking garages.
Aswal is responsible for the design of the robotic automation for the garage; integration of interrelated systems; access controls and security features; integration of machine automation with GE Cimplicity and Tracker; customer interface display and payment systems; and the automation testing and commissioning of the automatic parking garage
Aswal has worked with the Robotic Parking System since 2006. He holds a Bachelor of Technology in Instrumentation and Electronics Engineering.
Qadeer Ahmed, Site Installations & Operations Manager Middle East
Qadeer Ahmed has been with Robotic Parking Systems since 2007 handling our UAE operations. He started as a technician Supervisor, was quickly promoted to Project Manager and then into Site Installation Manager in a little over five years with the company.
Ahmed is responsible for steel installation and supervision including surveying installed steel structure; machine installation, electrical and MEP installation with supervision; software coordination, commissioning of machines, co-ordination with corporate, and reporting for clients. He has over 20+ years Gulf experience.
Ahmed holds a diploma of Associate Engineer in Electrical Technologies.
Officers and Board of Directors
Juergen Bauer
(Chairman of the Board)
– Chairman of the Board of ASM Beteiligungs AG in Switzerland.
Royce Monteverdi (President and CEO)
Ken Ritzman
David Tufaro (Secretary) founder and owner of – Terra Nova Ventures, LLC, Baltimore, MD which focuses on unique and challenging sites including adaptive re-use of historical structures.
Mary Lou DeWynGaert (Assistant Secretary / Treasurer)